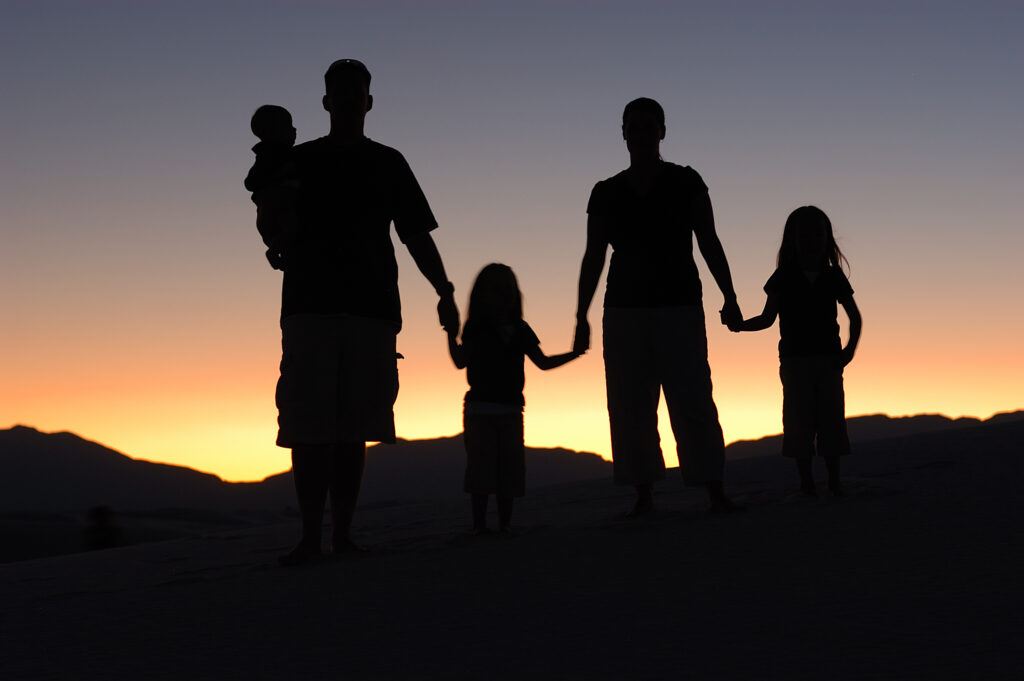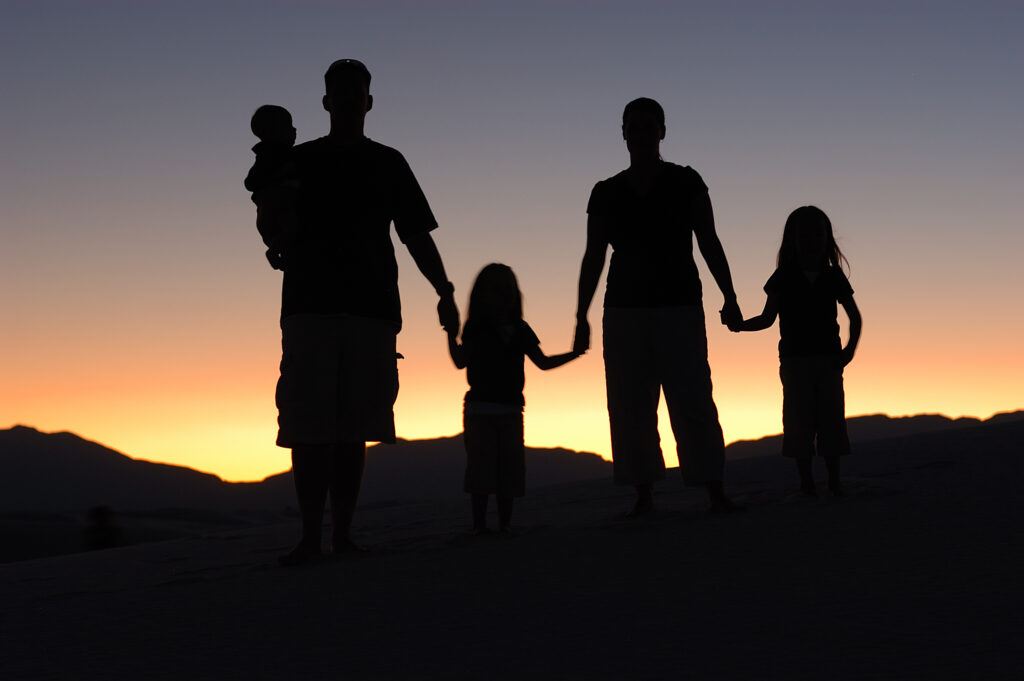 With the discovery that 70% of the community surrounding the church is under the age of 45, it is clear these homes include young singles, couples, and children. The congregation must consider God's design for the home and the needed discipleship within. While each household category will be considered, the first point of focus will be young families with children.
As communicators of the gospel, the church is called to disciple parents to lead their children in the ways of God. The passionate plea of Psalm 78:5-7 states, "He established a testimony in Jacob and appointed a law in Israel, which he commanded our fathers to teach to their children, that the next generation might know them, the children yet unborn, and arise and tell them to their children, so that they should set their hope in God and not forget the works of God, but keep his commandments…"
A robust, relational approach will be considered and developed to connect with young families, provide relational environments, and assist parents to understand and fulfill their privilege of raising and discipling the children God has gifted them with, just as Deuteronomy 6:4-7 commands.
Beyond the Scriptural command of the parent's role, Sociologist Christian Smith has clearly documented the incredible influence parents have over their children's faith commitment and practices. Smith writes, "Teenagers tend to share beliefs similar to their parents, subscribe to the same religious tradition, and attend religious services with a similar frequency."[1] If parent's faith is committed and growing, there is a greater likelihood their children will follow in that path. Yet, the opposite of this is also true. If parents live a life of limited or decreasing faith practice, the children will follow in this pattern into their adulthood.
An encouraging discovery from an article from Curtis Miller highlights four key findings most relevant to families and congregations in reaching and keeping children in the faith journey.[2]
The four key findings are: 1) Parents' Influence is Crucial, 2) Bland Faith Doesn't Transfer, 3) The Power of a Close Relationship, and lastly 4) Love the Prodigal.
Curtis also challenges, "Churches who want to see faith shared between generations need to encourage and equip parents to build warm, affirming, close relationships with their kids."[3]
In addition to discipling parents in their role, the church will partner with parents to provide solid biblical teaching, mature multi-generational relationships, and opportunities to participate within the larger congregational context.
[1] Christian Smith and Denton, Melinda Lundquist, Soul Searching: The Religious and Spiritual Lives of American Teenagers. (New York: Oxford University Press, 2005), 68.
[2] Curtis Miller, "Helping Kids Keep the Faith: Four Research Insights Every Parent Needs to Know", Updated: December 15, 2013 1st, 2021, accessed July 17, 2021, https://fulleryouthinstitute.org/blog/helping-kids-keep-the-faith.
[3] Ibid.
Read more...
---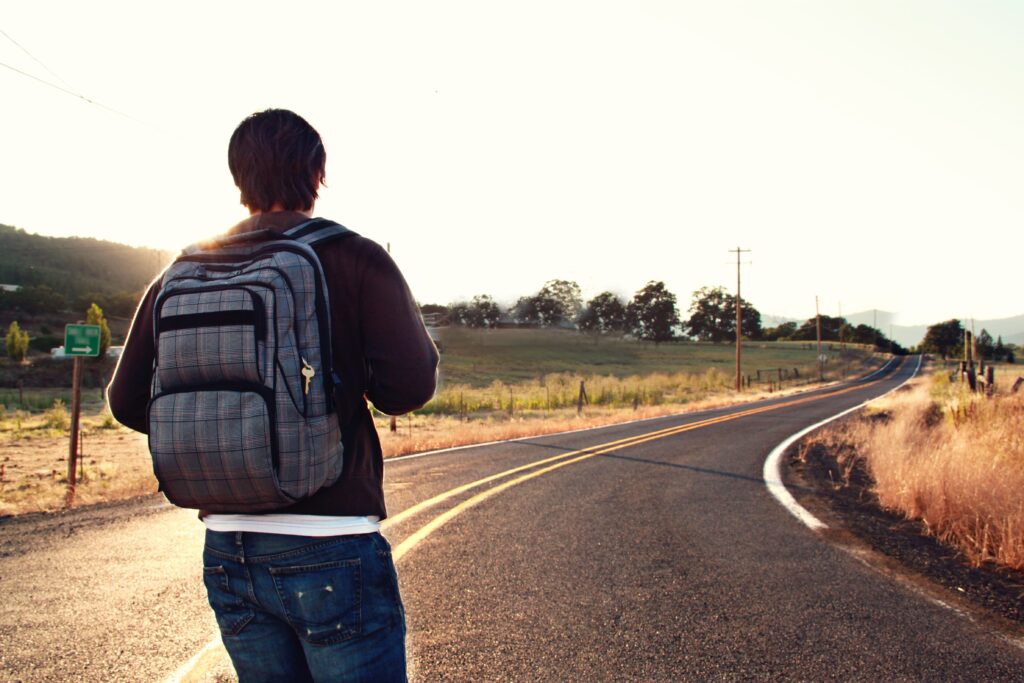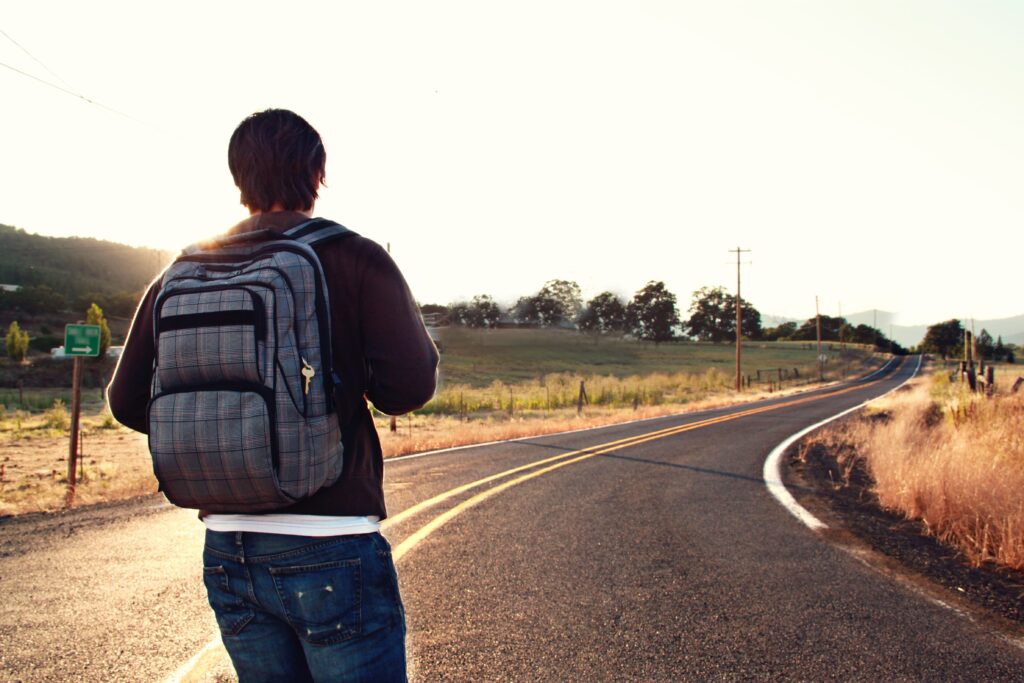 Several years ago, my family took a trip from Atlanta, GA to Charleston, SC to vacation at the beach. As we got in the vehicle, I set my GPS to the address of where we would be lodging. Fortunately, while in route, the GPS redirected us to avoid a major delay due to a vehicle accident. Rather than sitting for hours, it warned us and suggested a better route.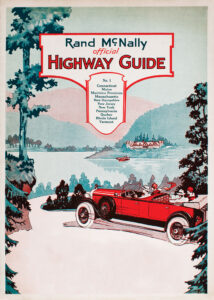 I easily remember the days before GPS when we would use the old Rand McNalley maps. Though the maps were great tools with accurate information, it simply couldn't help avoiding traffic delays or road closures.
Without a clear direction and a right perspective, we would have wandered for hours, perhaps even days, without getting anywhere desired and being left frustrated. This leads me to consider the church. If magnifying God and multiplying disciples is what the church is about, there must be a clear discipleship pathway that clarifies how the church will accomplish the mission. Without clarity, time will be wasted, and the church will be unable to know if or when disciples have been made.
In the New Testament, there are four stages that have been identified as the pathway to spiritual growth.
The first stage is to engage the spiritually lost. This method of Jesus is called, "Come & See" as found in John 1:39. When Jesus approach various people, He called them to come and see who He is and what He is about. Before ascending to Heaven, Jesus also commanded the followers of Christ in Matthew 28:19, "Go… make disciples."
People are spiritually dead from birth. As followers of Christ engage the spiritually lost, they show and share the gospel. Their greatest need is the gospel, so it is wise to be prepared to give answers to questions and serve them as a friend. Here is where a prayer, care, and share approach works well. Just as Dr. Jerry Falwell Sr. has famously said, "Nothing of eternal significance ever happens apart from prayer." The goal in prayer, care, and share is to see the Hoy Spirit open their minds and hearts to salvation.
As a church, we can commit to hosting "Come and See" events. These can include a VBS, Fall Festival, Easter Egg Hunt, Easter service, Christmas Eve Service, Community Day to honor all local teachers, police, firefighters, medical professionals, and public servants. As individual households, consider hosting block parties, game nights, and other special events to invite lost neighbors to your home giving opportunities to share and share the gospel of Jesus.
In addition to "Come and See," Jesus had a "Go and Tell" strategy to engage the spiritually lost. This is where we can to door-to-door visit, partner with the local public schools, and have Servant Evangelism Days in the community giving away water bottles, Mother's Day Carnations, Free car wash, etc.
The second stage is to establish the new believer. Jesus' method was to command people to "Follow Me" as found in John 1:43. After seeing and trusting Jesus as Lord and Savior, the new believers follow in His footsteps to learn from Him as their model. According to Colossians 2:7, Christians are to "walk in Him, rooted and built up in him and established in the faith, just as you were taught, abounding in thanksgiving." New believers are like infants and children in the faith. The goal is to help them grow up healthy in the faith. In simple terms, a new believer needs grow just like a physical infant and child. He will need to learn to identify, breathe, feed, talk, and walk. First, a new believer learns to identify as a child of the King being adopted into the family of God. Just like a newborn infant, a new believer must learn to breathe, exhaling by confessing sin and inhaling by receiving God's forgiveness. They must also learn to feed on the milk of God's Word and hearing biblical teaching. As a spiritual child grows up, they learn to talk by sharing God's Words and their testimony of what God has done for and in them. Also, a new child of God will learn to walk in step with the Holy Spirit by prayer, worship, obedience, and in godly relationships.
The third stage is to equip the growing worker. Jesus challenges His followers to "Fish for People" as recorded in Matthew 4:19. This reveals the necessity of sharing the gospel and representing Jesus in this world. In Ephesians 4:12, Paul instructs the church leaders "to equip the saints for the work of ministry." This third stage is like a young adult having learned the elementary teachings and now ready to step out and be a servant leader. The goal is to equip this growing believer to serve based on God's giftedness in them. This teaching will be more of the meat of the Word of God both in content and opportunity to serve. A growing believer will excel as they learn their spiritual gifts, begin serving in areas of gifting, and being challenged to share the Gospel with those in need.
Lastly, the fourth stage is to empower the multiplying disciple-makers. Jesus clearly indicated in John 15:16 that His followers are to "Bear Much Fruit." The heartbeat of disciple making is found in 2 Timothy 2:2, "what you have heard from me in the presence of many witnesses entrust to faithful men, who will be able to teach others also." This stage of growth is like a parent, one who has reproduced. As a follower of Christ leads a spiritually lost person to faith, he has the privilege of helping them grow into Christ-likeness and leading them to go reach others. The goal is to release growing disciples to multiply in others what they have learned.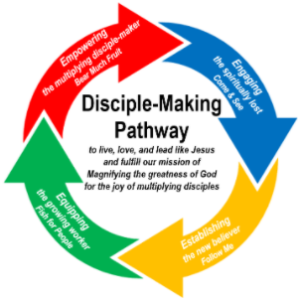 While many churches are declining in number, a few are seeing the Lord's blessing by adding a few people every year. While this is good, I believe the power of the Lord allows for multiplication that is "bearing much fruit." Adding 10 people a year to a church is good, producing 100 people in a decade. But what if even a quarter of the church members began to make disciples, then the results would be far greater in a decade. For example, suppose a church of 100 people was able to get 25 of the members reaching and discipling 1 person a piece. Then, after 2 years of discipleship, the original 25 people along with the newly discipled 25 reached and discipled 1 person a piece, continuing the same cycle. Within the same decade as the church that merely added 100 people, there would be over 800 people multiplying disciples.
The method a church uses to make disciples matter. Having a clear disciple-making pathway leads people to live out their full redemptive potential.
Another day… Another opportunity…
Pastor Chris Jordan
Read more...
---