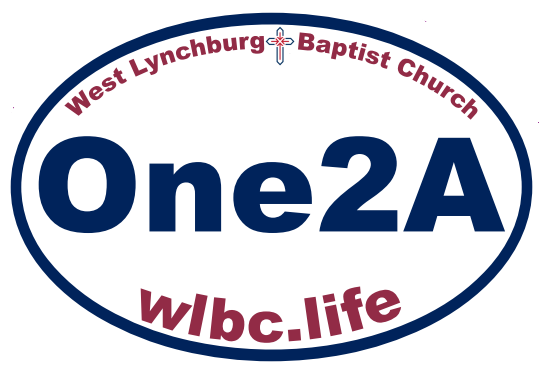 A short video explanation of One2A
What is One2A?
Have you seen the car magnets around town and wondered, "what in the world is One2A?"
John 13:25, "By this shall all men know that you are my disciples, if you have love

one to another

."
The members of West Lynchburg desire to live, love, and lead like Jesus. One of the ways we display the love of Jesus is by how we serve one another in the community.
WLBC is a church

in

the community

for

the community.
Biblical Examples of One2Another
The term 'One Another' is used over 100 times the the New Testament
Love one to another

(Jn 13:34, 15:12, 17; Ro 13:8; 1 Th 3:12, 1 Pe 1:22; 1 Jn 3:11, 4:7)
Give preference one to another in honor

(Ro 12:10)
Be kind, tender-hearted, and forgiving one to another

(Ep 4:32)
Bear with and forgive one to another

(Co 3:13)
Be at peace with one to another

(Mk 9:50)
Be hospitable one to another

(1 Pe 4:9)
Bear one another's burdens

(Ga 6:2)
Speak truth one to another

(Ep 4:25)
Encourage and build up one another

(1 Th 5:11)
Stimulate one another to love and good deeds

(He 10:24)
Seek good one to another, and don't repay evil for evil

(1 Th 5:15)
Confess sins one to another

(Jas 5:16)
Through love, serve one to another

(Ga 5:13)
Be devoted to one another in love

(Ro 12:10)
: